We're Getting Mutants in the MCU - The Loop
Play Sound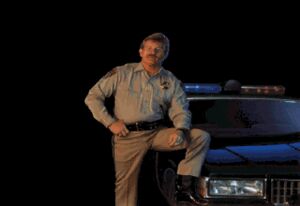 Jim Walls (b. November 30, 1940) (birth name James Walls) is a retired police officer as well as both the designer and writer of the first three Police Quest games and Codename: Iceman for Sierra On-Line.
Background
[
]
Early Life
[
]
James Walls was born and raised in Kingsburg, California. Throughout his childhood he has lived in the East Bay Area towns of Richmond, Berkeley and El Cerrito. He has also lived in the Nevada for a short while before moving back to his home state. He eventually settled down in Coarsegold. Before he became a police officer, he worked briefly as a Optician within the Fresno area. In 1969, he met the husband of a co-worker who was one week away from graduating the California Highway Patrol Academy. His enthusiasm inspired Jim to eventually join the force.
In December of 1971, he graduated the academy and began his career as a CHP Officer in the Southern California town of Van Nuys. For the next thirteen years, he served in various assignments throughout the state such as patrolling between San Fernando Valley and Fresno. In January 1984, while making an enforcement stop, he became involved in a shootout with a parolee. Approximately a year later, he began to experience complications related to the shootout.[1] The department placed Walls on administrative leave in order to evaluate his condition and determine the cause.
While still on administrative leave in 1985, Walls' then wife Donna, who worked as a hair stylist for a salon in Oakhurst, introduced him to Ken Williams, then president of Sierra On-Line. Ken Williams would occasionally visit the hair salon to have his hair cut by Donna. It was during one of these sessions that their conversations soon turned from hair style to an idea of creating a police oriented adventure game, conveying that a genuine policeman needed to be involved with the design in order to capture the realism.[2] He gave Donna his business card and asked Jim to call him. Jim was soon invited to Ken's house for a game of racquetball and after a few drinks and discussions, Jim went on to become a game designer for Sierra.
After fifteen years on the force, Walls officially retired from his police duties in 1986.[3]
Sierra On-Line
[
]
Jim claims "When I first sat down in front of a computer to begin the design story of the original Police Quest I had to be shown where the on/off switch was. I typed the entire story with two fingers (after all, the only skills I had at the time were chasing people down and throwing them in jail)."[4]
Walls' best-known works were the first three Police Quest games (1987's Police Quest: In Pursuit of the Death Angel, 1988's Police Quest II: The Vengeance, and 1990's Police Quest III: The Kindred). Walls also created an espionage game called Codename: Iceman in 1989, but this sold poorly in comparison to the Police Quest titles. The games included real situations that he had lived through his career.
Later games in the series were designed by Daryl F. Gates after Walls left Sierra.
Post Sierra On-Line
[
]
Walls also created Blue Force, another adventure game featuring a police officer, in 1993 for Tsunami Media. He, had a cameo as a weapons handler in a police station in the adventure game Blade Runner (based on the 1982 film) in 1997 for Virgin Interactive Entertainment and is also credited on Earth & Beyond and Pirates: The Legend of Black Kat in 2002 for Electronic Arts.
Gameography
[
]
Behind the scenes
[
]
Aliases
[
]
External Links
[
]
References
[
]