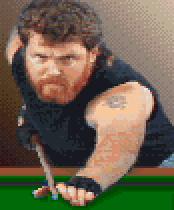 Steven "Steve" Rocklin
was a suspect from
Gibbon
, CA. Rocklin associated with, and at one time was known as a member of the cult "
Sons of Darkness
." In 1985, he was he was convicted on two accounts of burglary. He was sentenced to five years in a state penitentiary. In 1988 he was paroled, serving three years probation.
Rocklin was a member of Michael Bains's cult. He and Michael Bains stabbed and nearly killed Marie Wilkans Bonds. An eye witness saw them, and gave accurate description of Rocklin. Sonny Bonds tracked Rocklin down at the Old Nugget saloon. Rocklin tried to escape after exchanging fire with Sonny, but his car overturned at the highway, and he was killed immediately. Five packets of cocaine were found in his car. When looking at the corpse, Sonny regreted that he had not gotten his hands on Rocklin before he died.